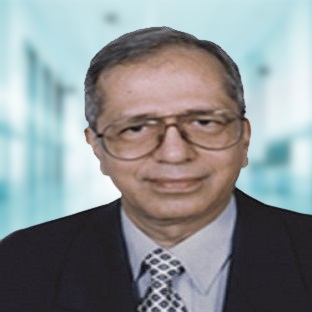 Endocrinology, Diabetes and Metabolism
Appointments / OPD Timings
3 years: As Instructor and later Assistant Prof at University of Alabama Medical centre, USA.
30 years: As Hon. Asst. Prof., later Hon. Prof at Grant Medical college, Mumbai.
2001 to now: DNB (Medicine) at Jaslok Hospital Research Centre.
Lifetime Achievement Award in Diabetology, Wockhardt Medical Excellence Awards in association with Harvard Medical International, February 2005.
RSSDI Distinguished Service Award conferred October '15 at Annual Meeting RSSDI, Lucknow.
FICCI & Quality Council of India; Health-Care Personality of the year , award year 2011, Delhi.
Chandalia, H.B. & Thadani, P.M. Glycemic Targets in Diabetes. Int J Diabetes Dev Ctries 2016; 36: 359-369. doi:10.1007/s13410-016- 0467-8.
Minimizing Hypoglycemia With Insulin Therapy, RSSDI book to be released in November 2016.
Chandalia H. B. and Ranganath M.: Phenformin-induced lactic acidosis in Proceedings of the Fourth National Congress on Diabetes. Ed. Munichoodappa C., Diabetes Club, Bangalore, 215, 1980.
Chandalia H. B. and Sadikot S. Blood lactic acid levels in diabetics treated with phenformin - evidence for a process of adaptation. In Diabetes Mellitus in Developing Countries. Ed. J. S. Bajaj, Interprint, Delhi 337-339, 1984.