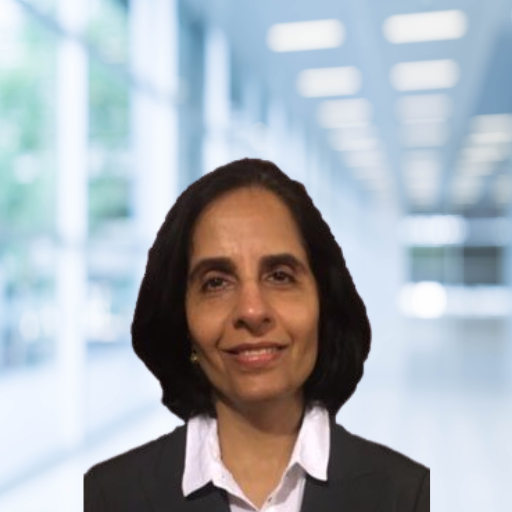 MRCP (UK) 1989
MD
M.B.B.S 1982
Appointments / OPD Timings
| | | |
| --- | --- | --- |
| Saturday | : | 09:00 AM - 01:00 PM |
Dr. Mala Bhambhani is a well qualified and accomplished senior Consultant Rheumatologist. She has been practicing since September 1993. She has a large and busy out patient practice averaging about 150 patients every week.
She treats patients with joint, neck or back pain and manages a wide variety of rheumatologic problems, like rheumatoid arthritis, osteoarthritis, osteoporosis, SLE, Systemic sclerosis, psoriatic arthritis, metabolic bone disease and inflammatory muscle disease among others. She has additional special interest in pediatric rheumatology and in the use joint and soft tissue injection to treat conditions like frozen shoulder, tennis elbow, carpel tunnel syndrome or heel pain.
She did her undergraduate and postgraduate medicine from the Grant Medical College and then trained in Rheumatology in UK first working as SHO Rheumatology in Norwich & later as a Senior Registrar/ Clinical research fellow in Rheumatology in Southampton General Hospital and later in Addenbrookes Hospital, Cambridge.
Casebook of Dermatology 2012 – SLE Lupus Profundus.
Casebook of Dermatology 2011 – Rituximab in recalcitrant SLE.
Giant Cell arteritis in Mumbai. J Assoc Physicians India 2010;58:372-74.
Metabolic bone diseases. Journal of General Medicine 2000.
Cardiac Manifestations of Rheumatological Diseases Asian Journal of Clinical Cardiology 2000;2:19-23.
Seronegative Arthritis GPA Journal 1999.
Management of steroid induced osteoporosis: C Ward Medical Journal 1999: March.
Crystal Arthropathy. Bombay Hospital Journal. 1997;39:268-73.
American Rheumatism Association (ARA) criteria for the classification of Rheumatoid Arthritis (RA). Editorial. J Assoc Physicians India 199644:89.
Approach to Acute Monoarthritis. Medicine Update 1995 July; 245-8.
Reduction in HLA class II antigen concentrations in synovial fluid after intra-articular glucocorticoid injection. Presented at the British Society of Rheumatology (BSR) meeting Sept 1992.
An investigation of T-cell subset phenotype & function in the rheumatoid synovium using IL2 mRNA. Immunology 1991;72:250-55. also presented at the BSR Spring meeting 1991.
Differential diagnosis in a patient with Klippel Trenaunay syndrome. Presented at the BSR meeting Spring 1991.
Treatment of Paget's disease of bone with single dose intravenous pamidronate. Annals of Rheumatic Diseases.1993;52:616-8.Also presented at the BSR Sept meeting 1991.
Dr. Menino DeSouza and Medical Welfare Trust Prize for the best all round student of Grant Medical College 1983.
Postgraduate Merit Scholarship Bombay University.