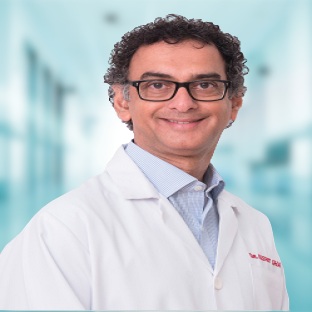 M.S. 1991
D.N.B. 1992
D.O.R.L. 1991
I.C.S.C 1980
Consultant ENT Surgeon at Breach Candy Hospital
Honorary Associate Consultant in E.N.T. at Bombay Hospital and Medical Research Centre
ENT
Endoscopic Sinus Surgery
Endoscopic Skull-based Surgery
Appointments / OPD Timings
| | | |
| --- | --- | --- |
| Monday | : | 02:00 PM - 04:00 PM |
| Friday | : | 02:00 PM - 04:00 PM |
Teaching Experience Since 1989 (27 years).
Head of Department, Co-ordinator (Associate Professor) and guide for DNB (National Board), Post-graduate programme in ENT at Bombay Hospital 2005 - 2016.
Programme Director for Fellowship Programme in Endoscopic sinus & Skullbase surgery since Feb. 2007.
Surgical Experience.
Extensive experience in all ENT, Endoscopic sinus and Skullbase surgeries.
Performed the highest number of endoscopic pituitary and skullbase surgeries in India.
Nasal Polyposis – Improving the outcome, April 2011, All India Rhinology Society Journal.
Endoscopic Approaches to the Craniovertebral junction and Odontoid Process. Deopujari CE, Karmarkar VS, Shah NJ; World Neurosurgery; Volume(s) 82, 12 Dec, 2014; Pages S49-S53.
Spontaneous Recurrent CSF Rhinorrhoea: A Rare Case and Review of Literature. Shah N, Deopujari C & Chhapola Shukla S. Indian J Otolaryngol Head Neck Surg (2016) October. doi: 1007/s12070-016-1024-y.
Bilateral Complete Congenital Choanal Atresia in an Adult Managed Endoscopically 1 with Mucosal Flaps without Stenting: Sujata Apurva Gawai * and Nishit J Shah; Otolaryngology Online, Volume 6 Issue 3: 122, 2016.
Endoscopic Excision of Symptomatic Simple Bone Cyst at Skull Base, Prashant Gunawat 1 , Salman Shaikh 2 , Vikram Karmarkar 3 , Chandrashekhar Deopujari 4 , Nishit Shah 5 ; Journal of Clinical and Diagnostic Research. 2016 Oct, Vol-10(10):
Dr. Manubhai Mehta Prize for standing 1st at the D.O.R.L. Examinations. Gold medal for obtaining 1st place with distinction at D.O.R.L. Exams.
Best consultant award paper - Effects of Noise pollution - Paper read at State Conference at Lonavla 1996.
Best Jr. consultant award paper - Endoscopic Pituitary Surgery – paper read at AOI annual conference, Bangalore, 2002.
Best Sr. consultant award paper – Beyond the Sphenoid – paper read at AOI annual conference, Hyderabad, 2004.
36th Maharashtra State Annual Conference; 16-17 October 2004, Mahabaleshwar. Skullbase Endoscopy – Sr.Consultant – Best Paper Award.
AOI Delhi Annual Conference; Dr. V P Sood Oration –May 2006. Endoscopic Pituitary Surgery, New Delhi.
AOI Kerala Annual State Conference –September 2006. Oration – Endoscopy beyond the Sphenoid. Dr. Praveen Menon Gold medal. , Kochi.
21st Annual conference of All India Rhinology Society in Chandigarh, September 2008. AIRS Oration.
28th AOI AP State Conference – 19-20, September 2009. Warangal. Prem Kakar 6th Asia Oceanic Oration – Balloon Sinuplasty.
8th Joint Annual Conference of MP and CG states – Oct. 8-9, 2011. Ujjain. Oration Lecture.
T O Shah Oration - 27 April, 2016. KEM Hospital, Mumbai. Trek to the Skullbase.
Malaysia Oration - May 25, 2016.
Brigadier Ramani Oration, Tamil Nadu State Conference, September 10, 2016.