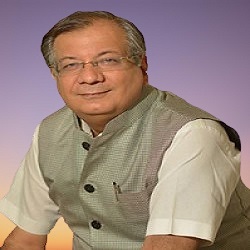 Appointments / OPD Timings
| | | |
| --- | --- | --- |
| Wednesday | : | 09:00 AM - 10:00 AM |
| Saturday | : | 08:30 AM - 10:00 AM |
Dr. Raju Khubchandani ( DOB 22 Jan 1956) is currently Section Head Rheumatology at SRCC Childrens Hospital Mumbai India and Honorary Consultant (Pediatrics) Breach Candy Hospitals.
An alumnus of the TN Medical College Mumbai, pediatric rheumatology has been for him a largely self-taught mid-career shift since 2003, with short three month stints that GOSH London and La Rabida Chicago. His database consists of over 4000 children with musculoskeletal diseases from Western India.
Some teaching and training achievements of Dr. Khubchandani :
Asthma By Consensus (IAP guidelines for Asthma care).
Asthma Training Module ( IAPs longest serving program).
Reach and Teach – (a week long course in Ped rheum for pediatricians).
ReCAP 1 ( a course in Ped rheum hosted in Mumbai in 2012 under auspices of PReS* 2012.
ReCAP 2 ( repeat in 2016).
Invited as faculty to teaching courses in Pediatric Rheumatology in Bangla Desh, Kenya, Switzerland, South Africa.
PROCIN ( an online course in pediatric rheumatology designed for IAP in partnership with Univ of Newcastle).
PaedCast series ( A dialogue on common pediatric symptoms with Dr. YK Amdekar).
Teaching is his passion and he has conceptualized, authored and hosted several novel teaching endeavours.
A popular speaker on the national and international stage, he has over 144 indexed publications (https://orcid.org/0000-0003-0294-119X) and has guided 11 post graduate students in Pediatrics and three post-doctoral fellows in Pediatric Rheumatology.
He is the founder-convenor of the Rheumatology Chapter of India Academy of Pediatrics (IAP). He has been awarded with several orations notably the prestigious Shantilal Sheth oration of the IAP and has served on five international consensus panels (diagnostic criteria for vasculitis in children, macrophage activation syndrome, classification of JIA, flare criteria in lupus and JIA management in less developed countries).
An avid traveller (loves safaris), he is a former junior national gold medallist in Table Tennis.