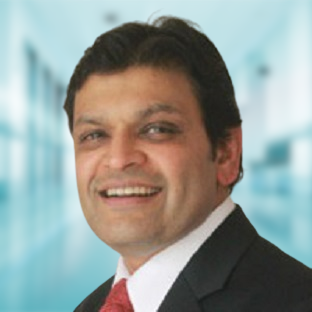 M.S.
M.Ch.
F.C.P.S.
Diplomate of National Board (Orth)
Fellow, Joint Replacement
Joint Replacement Surgeries
Orthopaedics
Appointments / OPD Timings
| | | |
| --- | --- | --- |
| Tuesday | : | 12:00 PM - 02:00 PM |
From 1996 till date: Dr. Rajesh Maniar has established a selective Joint Replacement practice in Mumbai, since the last twenty years. He has performed a vast range of Joint Replacements (> 6000) including complicated joints and revision surgeries of the hip, knee, shoulder and elbow.
Joint Replacement Service, Harvard Medical School's Brigham & Women's Hospital and New England Baptist Hospital, Boston, 1995.
Centre for Total Joint Replacement with Dr. C. S. Ranawat, Lenox Hill Hospital, New York, 1995.
Royal Liverpool Hospital, U.K. - 1994.
From 1990 to 1993 : Regional Orthopaedic Centre, Essex UK.
Maniar et al. 'The Asian Knee' Chapter in textbook 'Surgery of the Knee', 6th Edition, Elsevier Edited by Scott, WN,et al. 2016.
Maniar et. al. Ten-thirteen year Results of Mobile Bearing Posterior-Stabilized Rotating-platform knee implants reported by non-designer surgeon. Journal of Arthroplasty, Accepted for publication, 2016.
Maniar et. al. Influence of bilateral sequential total knee arthroplasty on functional recovery, Indian Journal of Orthopaedics 47(1):23-30, 2013.
Maniar et.al. Lateral Retinaculum Release in knee arthroplasty using a Stepwise, outside-in Technique. Clinical Orthopaedic and Related Research 470(10):2854-2863, 2012.
Maniar et.al. Most effective Regimen of tranexamic acid in knee arthroplasty: A prospective randomized Controlled Study in 240 cases. Clinical Orthopaedic and Related Research 470(9):2605-2612, 2012.
Maniar et.al. To use or not to use Continuous Passive motion post-total knee arthroplasty– presenting functional assessment results in early recovery. Journal of Arthroplasty 27(2):193-200, 2012.
Maniar et.al. Margin of error in Alignment - a Study undertaken when converting from conventional to computer-assisted total knee arthroplasty. Journal of Arthroplasty 26(1), 82-87, 2011.
Maniar. Rationale for the Posterior-Stabilized Rotating-Platform Knee – Review Article. Orthopaedics 29(9):S23-27, 2006.
Maniar et.al. Uptake of 99mTc-MDP after uncemented Hip Arthroplasty: A Quantitative Analysis of findings around the femoral Component in asymptomatic Patients. J Bone & Joint Surg (Br) 79-B, 123-128, 1997.
The American Knee Society Member; Co-founder and Board member of the Indian Society of Hip and Knee Surgeons.
Norman Roberts Medal for best thesis on hip replacement at MCh Orth examinations, U.K.
Young Surgeons Forum's Speaker Award at Western India Regional for Role of Mobile Bearing Knees in Indian Patients.
An innovative surgical technique of bone grafting is included in the Video Library of American Academy of Orthopaedic Surgeons and was presented at the Academy's Annual Meeting at New Orleans, U.S.A.
Computer Assisted Total Knee Replacement surgical training of orthopaedic surgeons from Europe, Africa, Australia and Asia.
Live surgical demonstrations of Knee Replacement surgeries at conferences abroad and in India.